A couple of weeks ago, I was close to completing a game that I have been continously playing since its release on the Nintendo 3DS, the indie game, Shovel Knight. Last year I placed Shovel Knight as my game of the year. Shovel Knight had started out as a kickstarted project, gaining a vast amount of funds, procured by avid fans won over by its proposal.
During 2014, the majority of games I'd played (PC / XBOX / PS3 / WiiU / 3DS) had been close to tat, with only a few being intriguing (Super Smash Bros, Wasteland 2, Grim Fandango Remastered, and a couple more). However none compared to Shovel Knight.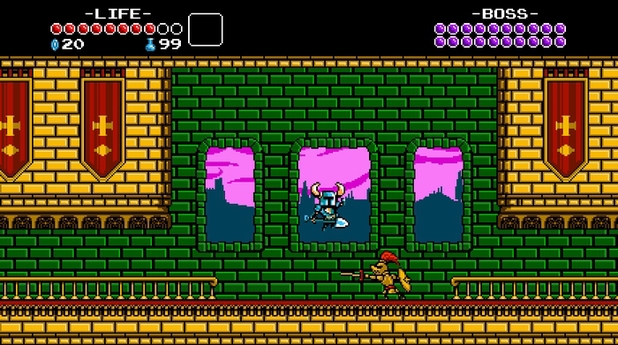 There were many a reason as to why I loved Shovel Knight: it's NES art style, the gameplay, the hidden secrets, the difficulty… however the one reason which won me over was it's music (created by Jake Kaufman, who i'll keeping an eye on).
Every single song was well crafted to faithfully follow the style of NES. It showed me that you could still do so much with just a tracker, and with it actually compose an epic soundtrack, to rival most AAA games. Each track suited its particular level well, the melodies capturing both the tension and struggle to had to face, with its crescendo being when you had to face the boss. God, was that hard…
Below I have picked two songs that really outshone for me whilst I have playing this game (because I couldn't just pick one).
My first is:


In Hall The of The Usurper (Pridemoor Keep)
This song captured the level fantastically. The pace and melody and progression is all well imagined here, and you'll find yourself humming along to its catchiness. This is also a prime example out of the Shovel Knight soundtrack which a song clearly lays out your goal. You have a mission to defeat the King Knight, who usurped the throne from the real King of Pridemoor Keep and its up to you to take in down!
My next although I thought it would be strike the earth, (it has been my ringtone for pretty forever) however I thought I had to go with:
La Danse Macabre (Lich Yard)
The fact I chose this was that it grew on me. When I first played the spectre knight level, I found it actually harder than most levels, the song helped me learn that the level, was a place where I had to keep my guard up, especially when it came down to Spectre Knight (that bastard)! The spine tingling scary melodies were also won me over the main riff, bouncing around and acting rather ghostly.
In the end I feel the soundtrack really shaped my playtime on Shovel Knight as the idea was steadily realised and executed perfectly. Only a few games have won me over through their music (Super Meat Boy anyone?) which is why I diligently await for next one to capture my attention and hopefully soon.
Listen to the rest of the soundtrack via Bandcamp
FYI: if anyone knows of any games with killer soundtracks, please leave them in comments below and I'll have a play through them later!