If you want to follow for more chip bit sid see below:
It's extremely late as I've writing this, for I'm being flooded with chiptune music. I even had someone send me chiptune music via my personal email address, which is weird because I have never given that shit out! So much I haven't had the time to listen to all of them. Anyway Shameful I'd admit, but its mainly down to some albums which have been submitted to me or I've found.
I stumbled across this weeks EP, Orbitals by Tri Angles, when someone sent it to me and I instantly fell in love with it.
Tri Angles is chiptune artist who based in Nashville, Tennesse, USA and bases his style around drum and bass. Like Sabrepulse and Trey Frey who play drum and bass, Tri Angles is much different in his style, layering chipmusic over to produce a hardcore mix which is both fast and easy to dig.
Orbitals is a prime example of this, consisting of only 4 tracks, but pack punch as big Ryu's signature smash…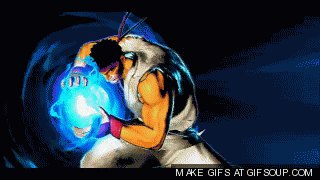 HADOUKEN!

Apologies for that (I lie) but Orbitals really is that good!
As soon as its first track, PIR8KING gets into motion, with it's fantastic chosen sample, "IT'S THE REAL PIRATE KING!" The gritty noises of the wave and pulse channel make this an absolute killer track. I'd really like to know how he tables his sound like on this as it sounds like bloody magic.
ORBITALS is a great middle song to fit between as the meat of the EP and sharing its name as well. This song shows Tri Angles great skill in working to keep the rhythm between lead and drums. I had great time blasting this song out of my speakers whilst driving down the motorway.
HLJHAMEN leaves us this some great old school drum and bass fills, focusing more ultra epic rhythm of the drums rather than than the bouncy leads ORBITALS did.
In a pinch, I loved Orbitals. So much that I wish Tri Angles had put more songs into the EP, but creating chiptune is a fucking hard task, so I shut up.
Tonight and 6pm GMT, I will be down at Gameface with Graeme, blasting out some of the music I have found over the last few weeks. It's been another great month and I hope you like what I've found. You can listen via link below:
fabradiointernational.com/newmainplayer/index.html
The set list is below so have a listen and see what you like:
Listen to Who Cares by Ultrasyd via Bandcamp
Listen to In The Snow EP by Arcadecoma via bandcamp
(I couldn't decide of which song to put on for Twilight City, so I put two on, though honestly I'd play the whole damn thing, sadly I can't D:)
Listen to Twilight City by Are You Afraid Of The Dog via bandcamp
Listen to Orbitals by Tri Angles via bandcamp
So that's all till next time guys! If you enjoyed any of these bands I have linked you, please if you any pennies to spare, support these artists by buying their albums. Every Album I review, I have bought to support these underground heroes, so please keep chiptune growing with your support!